Hey Ripple people! In the past few months, we have been long procrastinating over moving to a new server. And well, the day has finally come for us to move out of our current server, and upgrade to a better one.
Due to the massive growth we have been experiencing in the past month, this upgrade was necessary. Despite of the cost being the same of the old server, the specs are better by a long shot, including a Xeon 6C / 12T @2.2 Ghz Cache L3 9MB, 32GB of RAM DDR4 and 500 GB of SSD. From our tests, this already brings noticeable improvements in speed, and we're always aiming for the most speed and performance we can achieve.
The old server, kon, has an HDD disk, which makes it significantly slow. You probably have noticed nothing, because thanks to many magic tricks we're always able to run at the speed of light, but still to handle the user growth we'll have in the next month we thought it would be good to migrate now to a brand new server.
The instructions to update are as following:
1. Close osu!
2. Open the ripple server switcher
3. Click 'Ok' on this window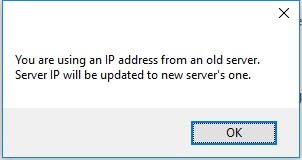 If you don't have the server switcher, have installed Ripple through weird methods I don't know, use this documentation file. If you are using a custom client like osu!fx or osu!custom, nothing should be required apart from restarting your game.
As a reminder for those of you who are not on our Discord, you can check out our Ripple development Telegram channel here. We post stuff there usually before everywhere else, so make sure to join the channel if you have Telegram!